Welcome to Davenport!
Dear Class of 2026,
Woo hoo! You are a fellow GNOME! (All students in Davenport are gnomes, which is frankly the BEST MASCOT THERE IS.) Today is a great day in which we welcome you to the club. There is much to introduce you to and we are so excited for the gates to be thrown open in August to bring you in and start acquainting you with the Dive (what?), the cottage (huh?), the BEST food on campus (yes, really.), the wildly awesome first-year counselors (they'll be in touch), your new suite mates (they'll be in touch too), and other Gnomes who will make up your Davenport family.
August will hold a very big day for all of you: Move-in. Coming off the pandemic, it's very different this year and we are very excited to welcome you to Davenport. More info will be coming to you on that but do check out the Move-In page there is lots of info. Move-in is the culmination of all your hard high school work finally paying off. So as you walk into the Davenport courtyard as a Yale student  for the first time, don't forget to pause and soak it in!
Welcome and we can't wait to meet you! In the mean time, you can check out Davenport in this video we made!
Have a great summer; we'll be together before you know it!
Welcome to our Head of College!
Dear Fellow Gnomes,
It gives us great pleasure to announce the appointment of Anjelica Gonzalez, associate professor of biomedical engineering and faculty director of Tsai CITY, as the next Head of Davenport College for a five-year term, effective July 1, 2022.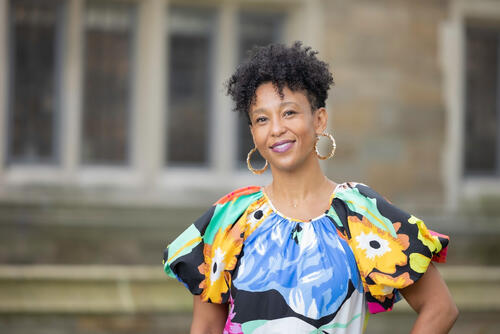 A pioneering scientist in the field of tissue engineering and regenerative medicine, Professor Gonzalez joined Yale in 2007. With a vision to establish a research laboratory that contributes to engineering and medicine, she was drawn to Yale's reputation for encouraging multidisciplinary collaborations and for helping faculty members bring discoveries to communities who need them.
Professor Gonzalez's research focuses on the development of materials that mimic human organs. Bringing together experimental methods and expertise from organic chemistry, molecular biology, mathematics, computational modeling, and image analysis, she develops engineered scaffolds to better understand healthy and diseased states of biological systems. Her research laboratory also uses the biomimetic materials they make to study how drugs and other medical interventions can reverse tissue damage caused by environmental pollutants, inflammation, and diseases.
A committed educator, she brings her passion for innovation to the classroom. She encourages students to utilize all aspects of their life experiences and their hopes for the future to make discoveries and to contribute to their area of study—whether it is in engineering and the sciences or not. This is an approach that she follows in her own life. For example, she developed the idea for her startup company, PremieBreathe, by combining her experiences as a mother, her expertise as an engineer, and her aspirations to bring technological advancements to under-resourced families. The low-cost neonatal respiratory device she created is now in use in underserved communities around the world.
Professor Gonzalez has been recognized for her outstanding teaching, research, and service to society within Yale and beyond. Among many accolades, Professor Gonzalez earned the Provost's Teaching Award, the Biomedical Engineering Society Diversity Award, and the USAID/Gates Foundation DevelopmentxChange Investor Pitch Competition Award. In 2021, she received the inaugural Faculty of Arts and Sciences Dean's Award for Inclusion and Belonging. The National Institutes of Health, Biomedical Engineering Society, Microcirculation Society, American Society for Investigative Pathology, American Physiological Society, and Hartwell Foundation have also acknowledged her distinguished work.
A Las Vegas, Nevada, native who was the first in her family to earn a bachelor's degree, Professor Gonzalez received her B.S. in biological engineering from Utah State University and Ph.D. in computational biology from Baylor College of Medicine. She continued her education with post-doctoral work in the Leukocyte Biology and Pediatric Intensive Care Unit at Texas Children's Hospital. In addition to being a prolific scientist, she has published articles in the popular press, including The New York Times.
Joining Professor Gonzalez at Davenport are her twin sons, Alex and Jackson. They are eleven years old and are quite enchanted by the prospect of residing in a "castle." The reigning Bethany-Woodbridge Little League champions are ready to defend their title under the leadership of a mother who moonlights as their coach. And Professor Gonzalez looks forward to enlisting D'porters to scrimmage with her ferocious sluggers in the courtyard—if they can keep up.
The sense of innovation that drives Professor Gonzalez's research also extends to her sartorial style. She loves to sew her own clothing and will be on call around the college to teach students how to create new works of art or mend items in need of repair. She is also working toward the improvement of her violin skills and would welcome the opportunity to learn from students.
We wish to thank Head of College John Witt for his leadership, tremendous service to the college, and exemplary commitment to the students. We also are grateful for the thoughtful work of the members of the search advisory committee: Reina Maruyama, professor of physics and astronomy (chair); Lincoln Caplan, Truman Capote visiting lecturer in law, senior research scholar in law, Davenport writing tutor; Jay Gitlin, senior lecturer of history and associate director of the Howard R. Lamar Center; Karin Gosselink, associate director of undergraduate writing and academic strategies; Patrick Chappel '24; Simone Felton '25; Yousra Omer '22; and Adam Wassilchalk '23.
Please join us in welcoming Professor Gonzalez, Alex, and Jackson to the Davenport community!