Welch Hall
First-years in Davenport College live in Welch Hall, which is on Old Campus. On move-in day, College Street will be blocked off by the police and made into a one-way heading south from Elm Street to Chapel Street.
Davenport Crest
All Davenport students should display the Davenport crest on their windshield so that the student move-in crews can identify you and help move your things into your room. Click the crest for a larger image.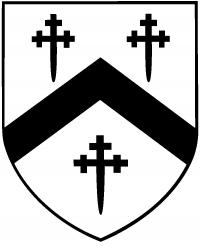 What to Bring
There are dozens of lists like this one available to you. This list is the absolute essentials for living in Welch as described by a former First-year Counselor. It does not include things shared by the suite. The same list is available as a Word document.
pencils
notebooks
fan (there is no AC)
lights (there is no overhead lighting)
bed sheets
comforter
mattress pad
pillow
clothing (most people bring too much)
hangers
laundry bin
cleaning supplies
coat hooks
trash can
towels
shower shoes
backpack
raincoat/umbrella
Printers are NOT recommended, as there is a printer cluster conveniently located in Connecticut Hall, and having and maintaining a printer requires space and money.
Furniture in Welch
Most suites in Welch have a bed, dresser, side table, desk and closet or wardrobe. Common rooms are furnished.