Davenport College
First Years will be living in Davenport College, located at 248 York Street, New Haven, Connecticut 06510.
Davenport is one of the fourteen residential colleges at Yale University. Its buildings were completed in 1933 mainly in the Georgian style but with a gothic façade along York Street. The college was named after John Davenport, who founded Yale's home city of New Haven, Connecticut. 
Davenport Crest
All Davenport students should display the Davenport crest on their windshield so that the student move-in crews can identify you and help move your things into your room. Click the crest for a larger image.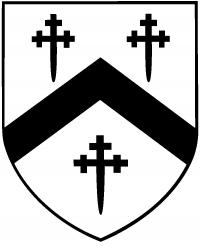 What to Bring
There are dozens of lists like this one available to you. This list is the absolute essentials for living in Welch as described by a former First-year Counselor. It does not include things shared by the suite. The same list is available as a Word document.
pencils
notebooks
fan (there is no AC)
lights (there is no overhead lighting)
bed sheets
comforter
mattress pad
pillow
clothing (most people bring too much)
hangers
laundry bin
cleaning supplies
coat hooks
trash can
towels
shower shoes
backpack
raincoat/umbrella
Printers are NOT recommended, as there is a printer cluster conveniently located in Connecticut Hall, and having and maintaining a printer requires space and money.