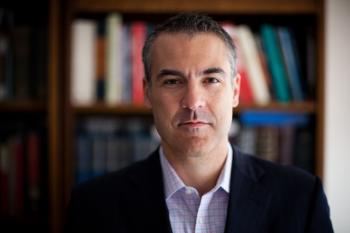 John Fabian Witt graduated summa cum laude from Yale College in 1994, where he majored in History and served as a freshman counselor.  He went to Yale Law School, graduating in 1999, and got his Ph.D. in History from Yale in 2000.  He is now a professor at Yale Law School, where he holds the Allen H. Duffy Class of 1960 chair in law, and also a professor in the Yale History Department.
His research and teaching is in the history of American law, where he has published three books and many articles and book chapters. His most recent book, Lincoln's Code: The Laws of War in American History, is about the history of the laws of armed conflict. The book won the 2013 Bancroft Prize in American history and the American Bar Association's Silver Gavel Award.  It was a finalist for the Pulitzer Prize and the New York Times selected it as a Notable Book for the year.  Witt's earlier books look at the history of American law in global perspective (Patriots and Cosmopolitans: Hidden Histories of American Law) and the industrial accident crisis of the turn of the twentieth century (The Accidental Republic: Crippled Workingmen, Destitute Widos, and the Remaking of American Law). Witt also teaches and writes in the field of law known as torts, which is essentially the law of wrongful injuries.  His casebook, Torts: Cases, Principles, and Institutions, (3d ed. 2018), is available for free on a Creative Commons license.  In the summer of 2019, Yale University Press is publishing the edited version of a long-lost Civil War-era manuscript Witt found in the National Archives.
Witt's articles appear in leading scholarly journals. He has also written for The Atlantic, The New Republic, the New York Times, Slate,  the Wall Street Journal, and the Washington Post. He is a fellow of the American Academy of Arts and Sciences and has served as a John Simon Guggenheim Memorial Foundation Fellow.  He is currently writing a book on the men and women behind the Garland Fund: the 1920s foundation that quietly financed the work that culminated in Brown v. Board of Education. 
Before coming back to New Haven to join the Yale faculty, Witt taught at Columbia University for eight years and served as a law clerk to Judge Pierre N. Leval on the United States Court of Appeals for the Second Circuit.  
Witt grew up in Philadelphia, where he ate thousands of cheese steaks and Tastykakes while attending Quaker school for thirteen years.  He is an avid baseball fan and fly fisherman, an eager hiker, a devoted reader of contemporary fiction, and a slightly guilty watcher of movies of all kinds, good and bad alike.  He enjoys stumbling through his mediocre tennis game, and boasts of a passionate love of pickles and the Davenport dining hall's tuna salad.  He lives in Davenport with his two children, Gus and Teddy, and their sweet and clumsy dog, Pixie.  Rumor has it that he and Pixie haunt the Davenport library late at night during reading period and exams carrying a wide array of candy bars and treats. 
As Head of College, Witt is the ranking officer of Davenport College, responsible for the college's intellectual, social, and cultural life.  He works with the Dean of the College and its extraordinary staff to build the best possible community for Davenport students.
Follow Witt on Twitter at @JohnFabianWitt
The College Office is open weekdays, 8:30AM to 5:00PM and is located in Davenport, Entryway N. ​Professor Witt holds office hours on Thursdays from 1:00PM to 3:00PM. To make an appointment, please email or call Brenda Torres, the Head of College Administrative Assistant, at brenda.torres@yale.edu, (203) 432-0550.